Prenatal Chiropractic Care in Springfield MO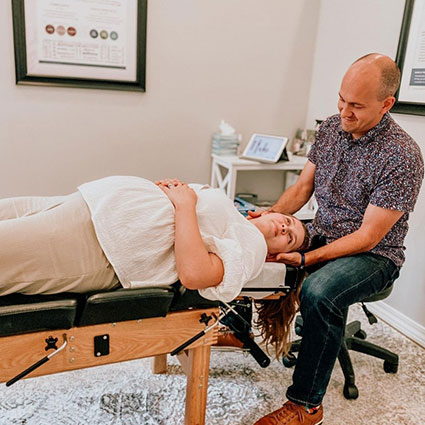 Every mom's utmost wish is to have a comfortable pregnancy and a healthy baby. At Thrive Family Chiropractic, LLC, Dr. James has trained extensively in prenatal care to ensure that you have the best possible pregnancy experience. His experience includes seeing his wife, Jessica, through three pregnancies, two of which were while he was in chiropractic school.
He witnessed the stress on her body and how uncomfortable she was before starting regular chiropractic care. It allowed her to get more out of her pregnancy, enjoying this special time in life while a new being is created.
Preparing for Game Day
Chiropractic care can help expecting moms feel better during this period of change, preparing you mentally, emotionally and physically for game time — the day of your baby's birth. Your nervous system is responsible for your ability to adapt and change, as well as the creation of your baby. We'll make sure that this system is doing its job and allowing you and your baby to express health.
There are many common pregnancy-related ailments that we've alleviated:
Low back pain
Pelvic pain
Sleeping troubles
Headaches and migraines
Starting Early for a Health Pregnancy
The best time to begin chiropractic care is actually before you become pregnant since we can assist with fertility for both Mom and Dad. We suggest you start immediately, to improve the power of your body to provide for the coming changes.
Dr. James uses different techniques depending on your needs, restoring the balance to your spine and nervous system so your baby can grow and develop. We utilize the Webster Technique to ensure pelvic alignment. Pregnancy pillows keep you comfortable and able to lie on your stomach all the way up through the third trimester.
Extended hours are available for your convenience. Schedule your appointment with us today!

Pregnancy Chiropractic Care Springfield MO | (417) 351-5877